Mon, 09/05/2011 - 21:51
Work Ethic. It is imperative to have good morals and apply them to your ambitions and career to truly succeed in anything in life. Don't you agree?
Recent conversations, movies and discussions I have had the last two weeks really have me diving deep into the importance of morals and work ethic; Especially in the realm of sports. As we know, raw talent is a special gift, however when it's coupled with positive, good work ethic, there is no stopping that person. However, when it is simply raw talent… well you are only as strong as your weakest link and not having a good head on your shoulders or playing bad politics in any industry will only hurt you, and most people around you, in the end.
The "Official Home of Nets Basketball" on Twitter recently started a discussion on which is more important. I immediately, without hesitation, go with work ethic. Not only can you use this in every area of your life, but you can also improve upon a skill easier than improving your morals. Do you agree? Would you personally rather have raw talent or naturally practice positive work ethics?
After I started thinking about this, the more and more I thought about the people I look up to in my career and, yes, even though they are talented and skilled, they have natural amazing social and moral adeptness. It's quite intriguing and just truly inspiring. The skills are learned throughout the journey, it truly is not just about the destination. Your work ethic is directly connected to your character, who wouldn't want to continually work on that? I could sit here and name some sports players/executives that I believe are lacking in the area of morals but that could be argued that it's personal opinion so I am just going to focus on what could be seen as Positive Work Ethic: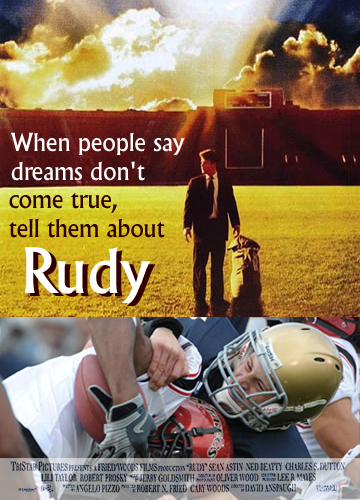 - Being a true team player
- Having patience
- Giving back to the community
- Having respect for everyone in the organization and the fans
- Practice continuously
- Always willing to step up
- Thinks about things before acting on them
- Stands tall during wins and losses
- Is happy for others' success
- Life/Work balance is in tact
What am I missing?
Of all the sports movies out there, Rudy really stands out to me. Of course it's all about how Rudy really doesn't have the "raw talent" but wants to play Football at ND so bad that he works his butt off and truly gives it his all. The couch even points out that he wishes all of his bulky, skilled stars on the team had half the heart that Rudy has. Well think about if all the players in sports across the world with natural talent were right-minded and reputable well; we would be blown away by not only the talent but the commitment and drive time and time again.
I recently saw a pre-screening of Moneyball: The story of Oakland A's general manager Billy Beane's successful attempt to put together a baseball club on a budget by employing computer-generated analysis to draft his players. It really dives into:
- Working with what you are given
- Trusting others
- Trusting yourself
- Trusting your gut
- Not working for money
- Wanting to make a positive change in the area you are working in
- When becoming successful, not letting it go to your head
- Moving forward even when others are doubting you
This story really touched me in so many ways. A note on the actual movie, phenomenal acting, funny/sad/dramatic storyline that leaves you on the edge of your seat and tears in your eyes, it truly is romantic for any sports lover.
Maybe I won't get to play in the "big leagues" in my world but I know that I am trying with everything I got and doing it the way I respect myself for and for that, I am in the big league!
So, what do you think matters more, Work Ethic or Raw Talent? I would love to hear your thoughts, opinions and experiences.